Cottage Garden Designs
Traditional cottage garden designs were set up to provide fruits, vegetables, and herbs as food for the family with flowers added in to the garden for decoration.
As lifestyles changed over the years, these garden designs took on a new more random and carefree form and planting style.
Cottage gardens now are more typically designed and profusely planted with flowers.
Many gardeners attempt to use heirloom varieties of plants in their designs such as delphinium, hollyhocks, and pansies and combine them with some of the other simple flowers, such as daisies.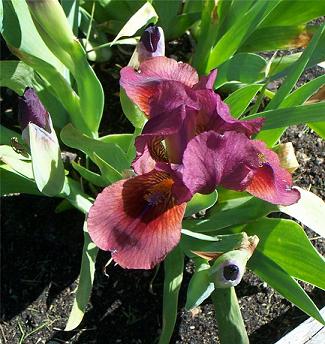 To preserve some of the antique flavor of the garden's old style you can include annuals, perennials, small shrubs (deciduous and evergreen), vines, and small trees - especially fruiting ones. Include a rose arbor and some flowering herbs, also.
More and more, though, cottage gardens are primarily made up of flowers.
Some gardeners will add a little accent by including a sun-dial, paved pathways, or garden seating, also.
All of these accents were generally missing from a genuine cottage garden as they were unnecessary and a waste of valuable food planting space.
Cottage Garden Plants



Aquilegia - Columbine

Clematis - vine

Delphinium

Dianthus - Sweet William

Geranium

Hollyhock

Honeysuckle - vine

Iris






Lavender

Mock Orange - shrub

Pansy

Potentilla

Rosa

Rudbeckia - Black Eyed Susan

Spirea - shrub

Tulip
~ To Garden Designs ~

~ To Home from Cottage Garden Designs ~