Outdoor Kitchen Areas
Ahhh...the smell of hamburgs on a grill.
It's possible for anyone to have an outdoor kitchen area. Yours may be a small and simple space with just a fire pit or free-standing grill set out on the patio each weekend.
Someone else may have an elaborate full-service cooking center complete with cabinetry, counter space, stainless-steel appliances, and of course, the kitchen sink.
Outdoor rooms for dining and entertaining range anywhere from the ordinary backyard cookout with family to some quite large grilling extravaganzas.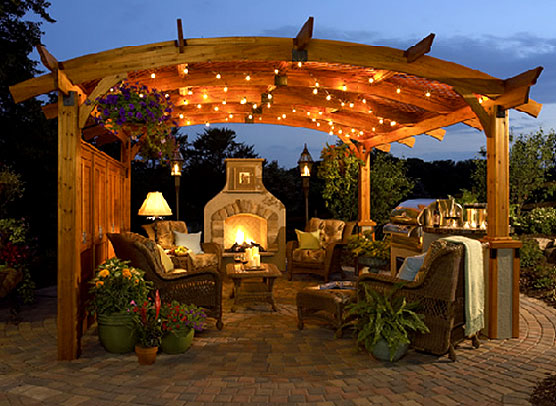 Set up a few chairs, invite over friends or neighbors and before long you'll find that you've created an outdoor cooking area.
You can have floors of grass or beaten earth, concrete/ceramic/brick, stone, or even decking. You might have built walls or better yet, enjoy planted walls.
Roofing may be the open sky, an arbor/trellis or pergoda overhead, thatch or palm, terra cotta, or cedar shakes.
With all of the do-it-yourself help now available, there is the possibility of an outdoor cooking area for all budgets.
If your budget is somewhat limited and you're pretty handy yourself, you can do much of the design and work on your own.
Keep in mind that when choosing materials for outdoor use, you'll want to select items that will be able to withstand the weather in your particular area.
There are many prefabricated barbecue grill islands now available that easily set up on a patio.
If you'd rather set up on a deck, added structural support may be needed depending upon the weight of the grill island. The basic island holds a grill, small sink, counter area, and storage space.
There are also larger L-shaped and U-shaped islands that allow for seating next to the grill area.
For those who are all thumbs or who may have an unlimited budget, you could hire a designer to create that custom outdoor cooking space you have in mind. Then use a reputable contractor to get the work done.
You may even be able to negotiate with your contractor to get a discount if they build your beautiful new outdoor kitchen as fill-in work or better yet, as reference work for future work for the contractor.
Remember also to add some fragrant herbs or plants in the garden or in pots around your cooking area.
Whether actually cooking or just hanging around, you'll be able to enjoy a variety of wonderful smells all the time in your own outdoor kitchen area.
~ To Outdoor Garden Rooms ~

~ To Home from Outdoor Kitchen ~